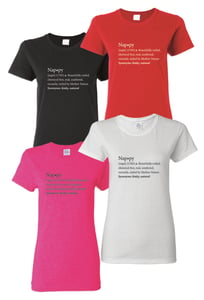 $

25.00
WE HAVE MOVED TO http://Globalcouture.net
Email questions to patricia@globalcouture.net
Super soft cotton t-shirt with a female cut that provides a figure flattering look. Printed with an original design, sure to be a classic. Crew, sizes SM to 4x. This is an original silk screen design by Global Couture owner.
Nappy Definition: Beautifully coiled, chemical free, real, unaltered, versatile, styled by Mother Nature
Synonyms: Kinky, natural
Sold out: If your size is sold out go to my second site http://globalcouture.biz
Global Couture is trying to spread the word about embracing your natural hair. Love your curls, if they are wavy, curly, kinky or coily.
Questions can be addressed at globalcouture@aol.com
Product Care (i.e., washing) instructions:
Screen printed t-shirts have a print that can last for years, since the ink is fixed 'in' the shirts and not on them. However, it is recommended to treat your screen printed t-shirts with care to ensure the print quality.
• ALWAYS wash inside out
• For the first 2 washes, wash by hand in cold water
• Use low temp washing program only
• NEVER tumble dry t-shirts with screen prints
• Iron shirts inside out